Product Range
Parts & Components
- Powertrain (engine, gearbox, exhaust)
- Chassis (axles, steering, brakes, wheels, shock absorbers)
- Body (metal parts, roof systems, mounted parts, windows, bumpers)
- Standard parts (fastening elements, thread and securing elements, sealing rings, roller bearings)
- Interior (cockpits, instruments, airbags, seats, heating, air-conditioning, electrical adjusters, interior filters)
- Charging accessories 12 volt (plugs, cables, connectors)
- Regenerated, restored and renewed parts for cars and commercial vehicles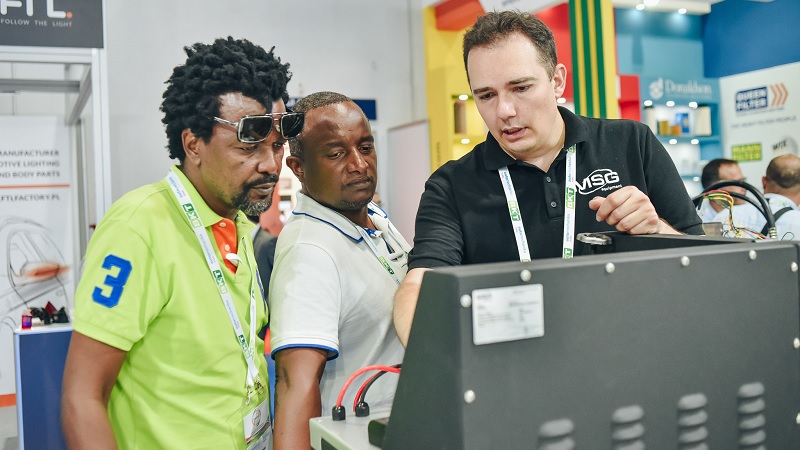 Electronics & Systems
- Engine electronics (control units, bus systems, sensors, actuators)
- Vehicle lighting (headlights, LED/OLED, lasers, exterior and interior lighting)
- Electrical system (electrical power supply, batteries, wiring harnesses, plug connections, sensors, on-board diagnostics)
- Comfort electronics (automatic air-conditioning, seat heating and ventilation, electric seat adjustment, keyless-go systems, control systems)
Industry Statistics from Dubai Customs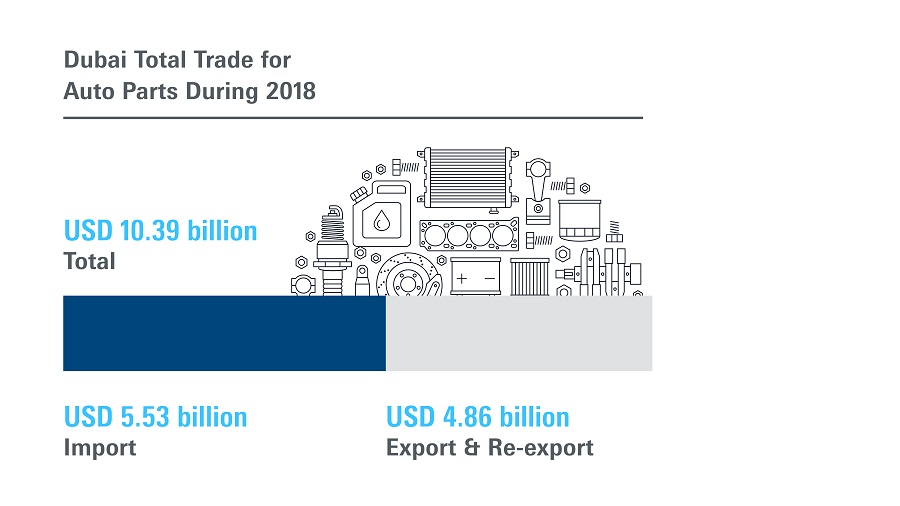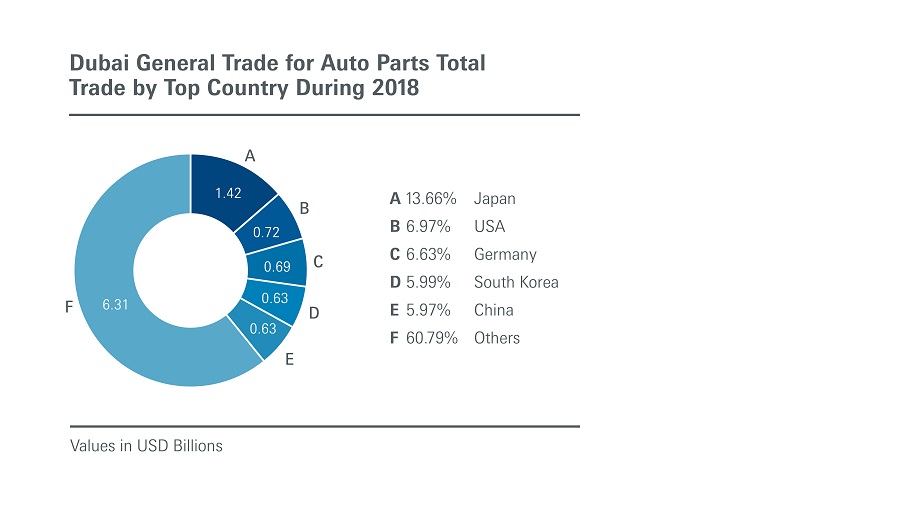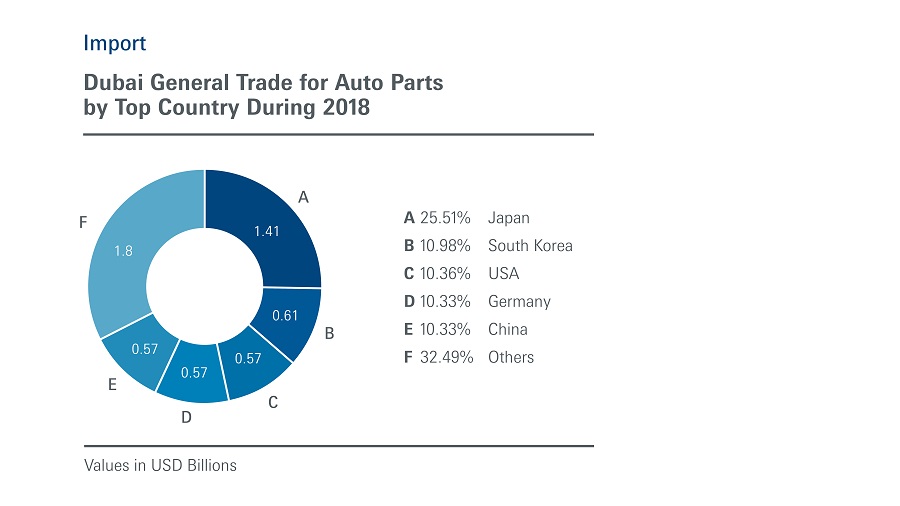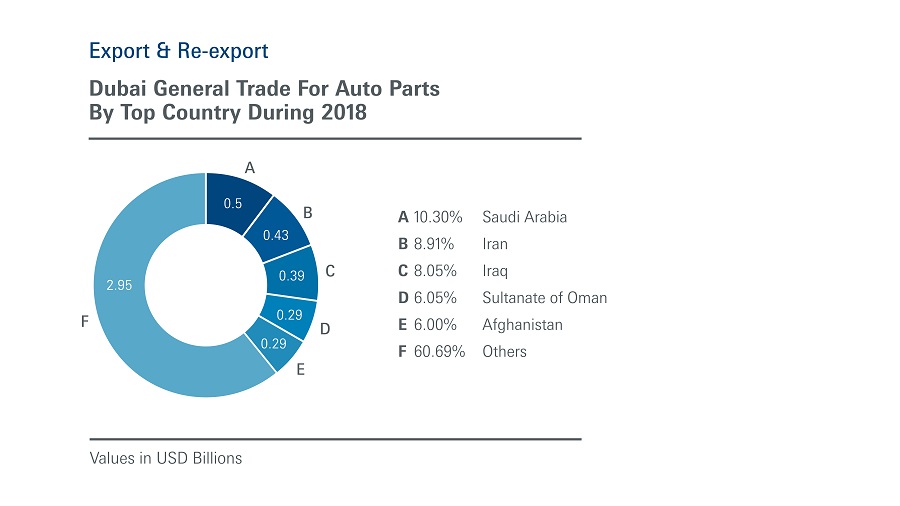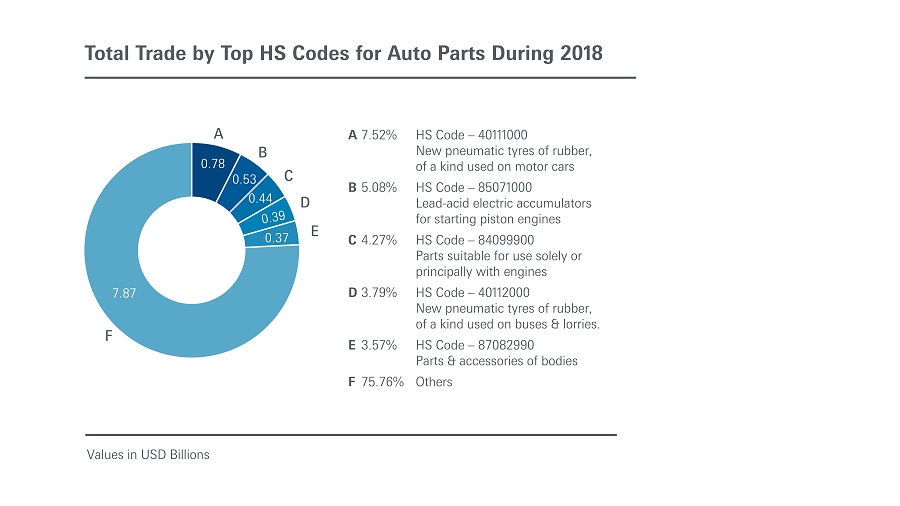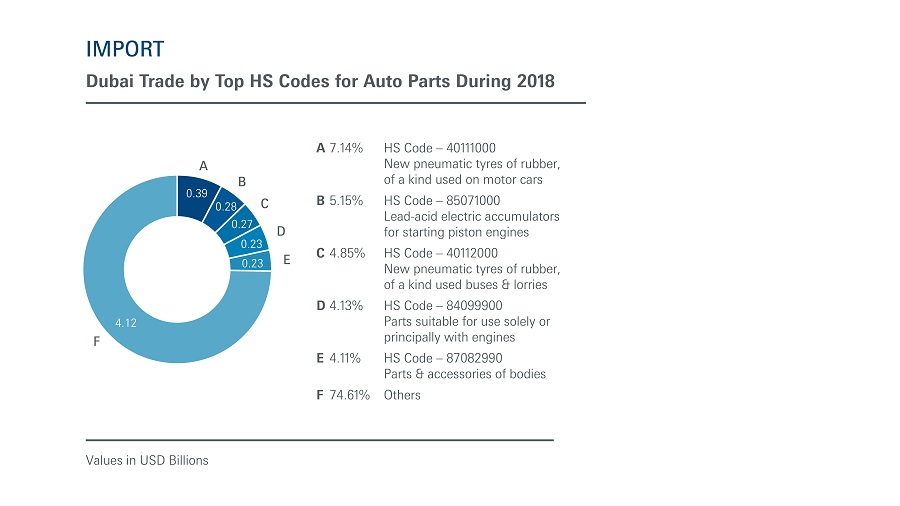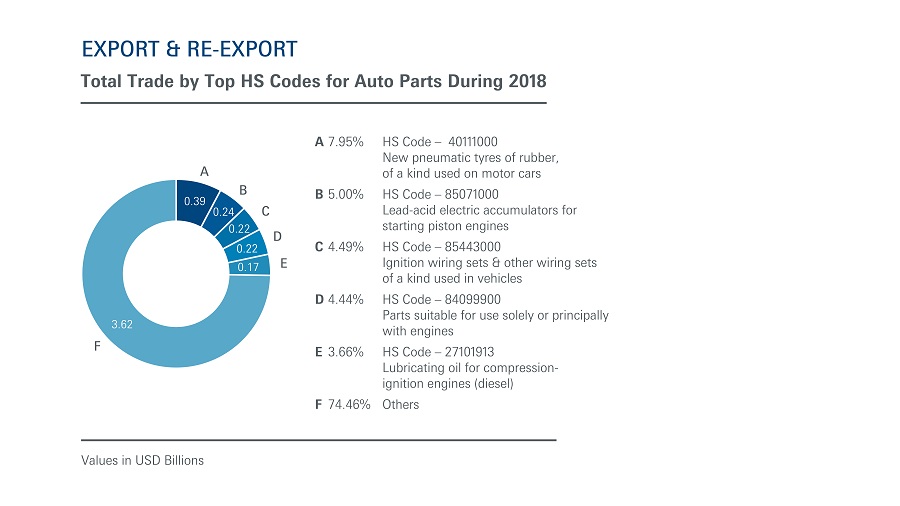 Exhibitor Interviews
Click on the images to watch the videos
Testimonials
We are always very keen to participate in Automechanika Dubai since it offers a wider platform to understand the current trends and new innovations of the automotive industry and due to the overwhelming participation of various manufacturers, suppliers and customers across the globe. We always curiously observe the increase in participation rate year by year which itself substantiate the worldwide acceptance of this event. It is needless to say that the participation help us to grab more customers and brings many other intangible values to our business operations.
At Automechanika Dubai, we met a distributor from Saudi Arabia who became our local representative. This new connection was made possible only at Automechanika Dubai, where we are able to expand our reach, improve market share and grow our brand within the region.
Britpart have always found exhibiting at Automechanika Dubai a rewarding experience. In the number of years we have had a presence at the show we have found both new customers and suppliers from within the region. We look forward to being there again in 2021.
We are traders dealing in original genuine parts for multiple brands like Toyota, Nissan etc, so Automechanika Dubai is important for us because we have found many clients from across the region right here. This time we found many suppliers for multi brands. So for us the show has been very nice and important.
Automechanika Dubai has always had strategic importance for us because we do not only get to meet and update our current customers from the region, but we also get to meet many qualified and ready-to-buy prospects in markets where we are looking to expand. It's really a great investment in time and resources for our company.
Automechanika Dubai is very important to us. In general, we take care of our contacts for our existing business while we continue to look to generate fresh leads. For us though, it is most important to meet and greet people and to be present at the show to demonstrate that we care about our customer.
Most of the visitors to our stand are potential customers; they do not come to just see the products, but also to understand the technicality of the product. Overall the quality of the visitors is very good. We have received a very positive response and feedback in our first appearance in the event.
The event is a common forum to meet everybody including our distributors and potential customers. Surely we intend to be present in the show next year because, for us, building up a brand equity and presence is very critical for the Middle East.
Exhibiting at Automechanika Dubai helps us expand our reach. We were able to meet around a 100 of our existing as well as new clients that included wholesalers, workshops and tractor manufacturers from Middle East, Brazil, different African countries, Indonesia, Singapore, Malaysia and China who went onto become our local representatives.
At Automechanika Dubai, we were able to meet and connect with Al Mumayaz Auto Spare Parts from who became our local representative in Kuwait. We consider this a big win and would like to thank the Automechanika Dubai team.
Exhibiting for 7 years of Automechanika Dubai, we meet auto parts wholesalers and distributors from every corner of the world, especially from the African region. These connections we make go onto become our local representatives and business partners. Thanks to Automechanika Dubai we are improving market share and expanding our brand globally.
We have been participating in Automechanika Dubai for eight years in a row. We are based in Dubai and through the show we want to show our presence to the market and to show our latest products. We also aim to meet our new and existing customers in the event.
At Automechanika Dubai, we had successful contacts with over 100 people visiting us at the show every time we exhibited.
We were the first and only automotive manufacturer to exhibit at Automechanika Dubai 2018. The show provided a very good platform to reach potential new fleet customers as well as overall exposure in the B2B market. As the "Innovation Zone Partner", we were able to showcase our 100% electric Twizy and Zoe models in a dedicated Renault branded area, which in particular, proved very successful in generating both brand and product awareness.
WAŚ Automotive Lighting Manufacturer considers Automechanika Dubai to be one of the best and most productive trade shows for its business. Across the 3-day busy show floor you can expect to see the most serious trade buyers. It is the perfect place to maintain existing relations as well establish new ones. Every year, there are always new potential customers from around the world! We look forward to coming back to the next edition.
Some of our exhibitors